Wonderworks Package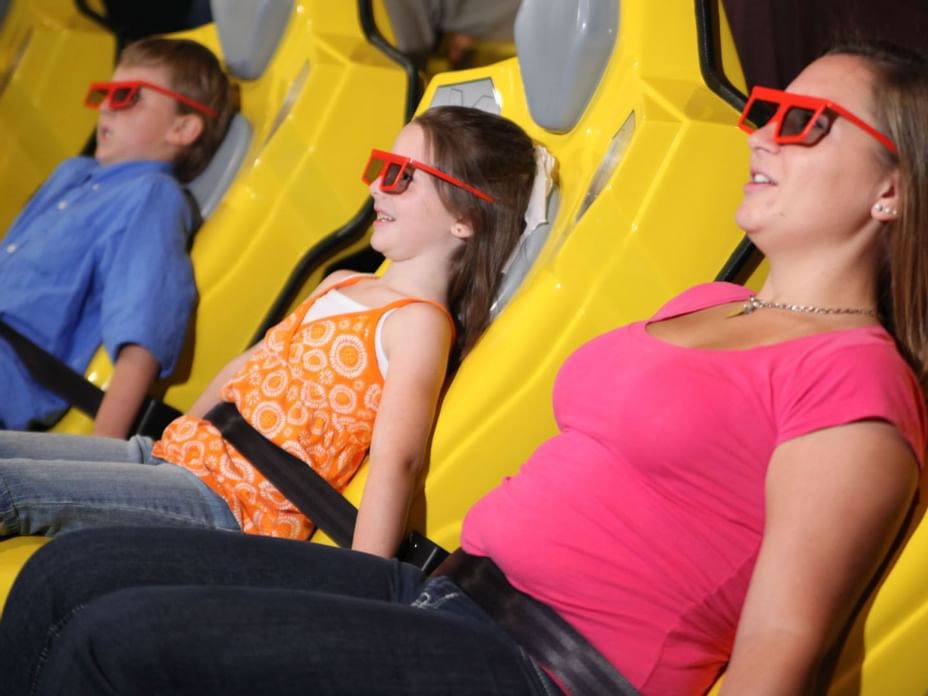 Book this deal to receive two adult and two child admissions to WonderWorks with your stay.*
Book online or call us at 1-855-875-9100.

WonderWorks, is one of our suggested top thing to do in Pigeon Forge, is just a short distance from Music Road Resort. This is a highly interactive attraction with over 150 interactive exhibits, which is great for families.
Everything is upside down when you walk into WonderWorks, so visitors get inverted. You step inside their inversion tunnel and all the fun begins!

EXPERIENCE NATURAL DISASTERS
Tesla Coil
Ever wanted to become a human lightning rod? Place your hand through a mesh, steel armor glove and watch the Tesla Coil emit 100,000 volts of electricity to your fingers! Shockingly amazing

Hurricane Shack
Enter the Hurricane Shack to experience hurricane-force winds of 71 MPH, that of a category 1 hurricane – you'll be blown away!

Earthquake Cafe
Experience the Quake of '89 that hit the San Francisco Bay Area during a World Series game. Feel the power behind the historical earthquake that measured magnitude 5.3 in the Richter scale.

Google Earth
Explore our planet with Google Earth, a virtual globe and map that allows you to view planet earth through satellite imagery, terrain mapping, 3D structures, and more.

Titanic
In 1912 the Titanic collided with an iceberg in the frigid North Atlantic Ocean, causing the ship to sink into ice-cold water. At WonderWorks, you can see how long you can hold your hand under the icy 28 °F water.

Natural Disasters Trivia
Think you know it all about wild weather, earthquakes and fires, manmade catastrophes, and extreme disasters? See just how much you know at WonderWorks.

PHYSICAL CHALLENGES
Bed of Nails
Learn what will happen when you lie down on 3,500 nails!

Wonder Wall
Amazing 3-Dimensional versions of your body are created on this gigantic pin wall made of 40,000 plastic pins! Get imaginative and create a new version of you with extra limbs and more, only at WonderWorks!

Bubble Lab
Everyone loves the Bubble Lab at WonderWorks in Pigeon Forge. Make small bubbles to large bubbles you can walk through!

MindBall
Have a competition with this challenging bio-feedback game that tests your mind capacities based on EEG Technology used to help cadets at West Point control their thought process to remain calm in stressful situations. Win by being calm and relaxed!

Pulley Power
This interactive demonstration teaches the power of mechanical advantage. By allowing a person to take a seat on one of the chairs and use the rope to pull themselves up, they'll find out which chair made it easiest, and why. The key to the mechanical advantage, in this case, is in the number of pulleys.

Rock Climbing
Challenge yourself, your friends or your family to race to the top of this rock-climbing wall at WonderWorks in Pigeon Forge.

Xtreme 360
Pedal hard and fast to generate enough power to spin a complete 360-degree revolution. Can you do it?

Virtual Sports
Virtual Sports allows you to test your athletic skills on a baseball, football, and soccer field. Play these games and see how you match up to professional athletes.

Virtual Army Experience
Test your survivor instincts and skills in a virtual battlefield where you must protect your country.

LIGHT & SOUND
Speed of Light
Light moves at exactly 299,792,458 meters per second. See if your speed and reflexes are faster than the speed of light in our interactive demo at WonderWorks!

Recollections
Every movement, or dance move, you bust out in front of our screen is captured and multiplied in brilliant, vibrant colors. Strike a Pose Literally strike a pose then meet your shadow at this interactive demonstration at WonderWorks!

Giant Piano
Find out how much fun it is to play this giant piano!

IMAGINATION LAB
Wonder Brite
Remember Lite-Bright? Come play with our giant version of it, create your own visual masterpiece!

Alien Stomper
A multiplayer game that has you stomping out an alien invasion!

Fun Express!
Enjoy these fun and simple games for children.

Gear Works
Play with the forces behind big and small gears in this interactive demonstration.

SPACE DISCOVERY
Space Suit
Explore a life-size replica of an EVA suit that astronauts wear when they need to do work outside their spacecraft.

Mercury Capsule
Climb into a replica of one of the launched capsules and experience what it's like to lay inside this one-man vehicle.

Mission to Mars
Use the rover to explore and examine the surface of Mars.

Land the Shuttle
Do you think you have what it takes to maneuver the controls of the Space Shuttle Discovery and make a clean landing onto the airstrip?

Fighter Jets
Explore the freedom of flight as you soar across the blue skies in this F18 fighter jet.

Astronaut Training Challenge
Experience the feeling of weightlessness astronauts feel when they are in space in our 4-person gyroscope.

OTHER FUN WONDERS
Wonder Coasters
At WonderWorks, ride our virtual coaster simulator and experience 360 degrees of pitch and roll motions, flips, backward movements and more!

Far Out Illusion Gallery
Paintings with hidden objects, eye that follow you and illusions fill the walls leading to our basement. Either you can figure it all out or you'll leave wondering.

WonderWorks in Pigeon Forge is a wealth of entertainment all under one floor! Just look for the upside-down building minutes North of Music Road Resort on Parkway.

Terms and conditions
*This deal must be selected at the time of booking and can only be reserved directly through Music Road resort and is not available through any 3rd party booking sites or agents. Admissions have no cash value and no refunds or replacements will be issued for lost, stolen or unused passes once issued. No refunds will be issued for early departures.