Magiquest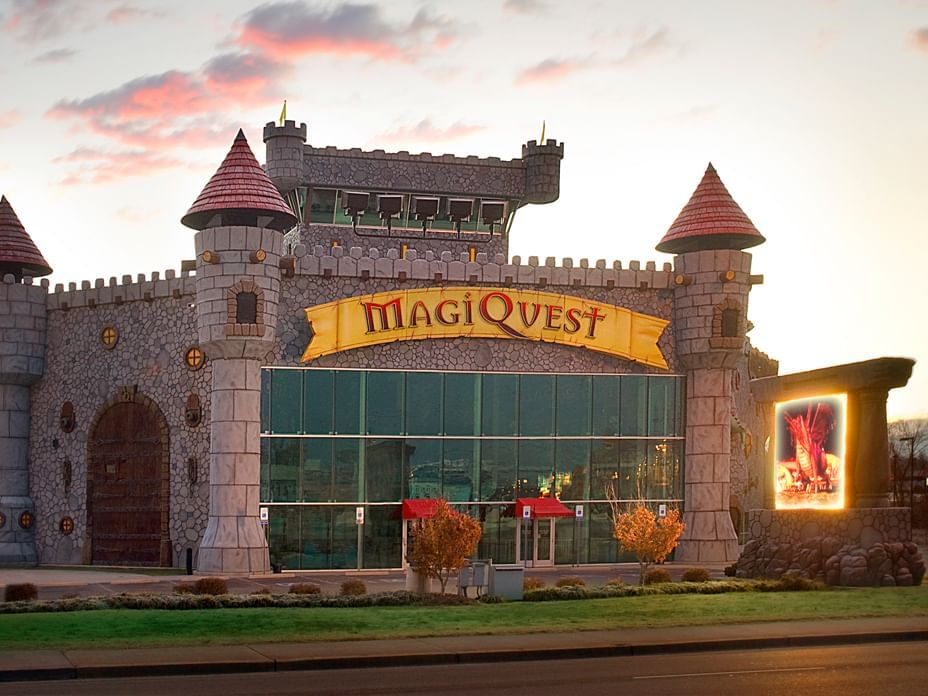 Enjoy 4 attractions in one - MagiQuest, Pirate Golf, The Vault, and Odyssey. Journey on a quest in MagiQuest. Pirate Golf is 18 holes of interactive black light mini golf in a pirate village. In The Vault, navigate through a room full of lasers. The Odyssey is a 5,000 sq. ft. mirror maze.

MagiQuest Pigeon Forge – 4 Attractions in One
MagiQuest is an interactive live-action, role playing game where players embark on quests and adventures in an enchanted fantasy world using real magic wands to solve the mysteries of the game.

Special FX Pirate Golf
Special FX Pirate Golf ™ is an 18 hole miniature golf course set in a Caribbean pirate village. Play through the pirate village, play across the pirate ship, be entertained by the villagers, and find the hidden treasure as you play through this exciting blacklight course. Hit a hole-in-one on the 18th hole and be serenaded by Blackbeard and his unusual friends. Pirate Golf is fun for the whole family!

The Vault
The Vault – Laser Challenge Don't break the laser beam as you twist, turn, and duck through this laser challenge! Work your way through the Vault to the end to stop the timer and see where you rank. If you are especially stealthy, you can make our top ten! You will want to try this challenge again and again to get your best time!

Odyssey – a Mirror Maze Adventure
Odyssey takes mirror mazes to a whole new level. At 5,000 square feet, it is twice as large as the world's second largest mirror maze, the Amazing Mirror Maze in Gatlinburg. Just when your senses adjust to the endless hallways and dancing lights of the mirror maze, you will find yourself in one of our unique experiences: the infinity room, where you see into infinity in every direction; the holograph hallway, where the walls create one giant holograph; or the dance room, where the walls react to your every move. Odyssey will be an exciting experience that your family will not soon forget!
2491 Parkway 37863 Pigeon Forge