7 Family-Friendly Places in Pigeon Forge
Choosing attractions can be hard, let Music Road Resort Hotel and Inn make it easier!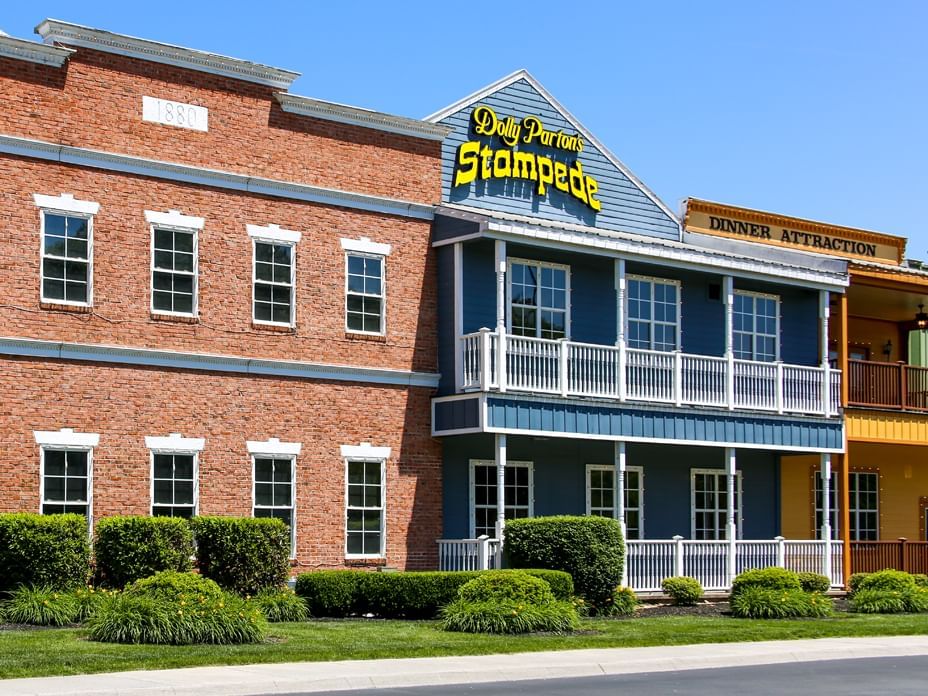 Pigeon Forge has become a mecca for family vacations over the years. They have grown so much that choosing what to do or where to eat with your family can be overwhelming. Here at Music Road Resort Hotel and Inn, we strive to make your vacation easier and more relaxing, so we have compiled a list of 7 family-friendly places to help make your dinner and attraction choices easier.
1. Dolly Parton's Stampede
If you are searching for Southern food, enjoy horses, and want a good laugh, this show is for you! Being "The Smokies Most Fun Place to Eat," The Stampede boasts a proper Southern four-course meal. Their menu comprises decadent creamy vegetable soup, a whole rotisserie chicken, barbecue pork loin, corn on the cob, and an excellent hot apple turnover for dessert. The Stampede is a kid-friendly show with dancing, singing, and horseback riding.
TIP! - If you arrive early, you can go on the horse walk to see some of the 32 horses that make up the show!
2. The Hatfield and McCoy Dinner Feud
Hatfield and McCoy's all-you-can-eat menu is an authentic Southern experience. Their menu includes Southern fried chicken, pit-pulled barbecue, homemade bread, creamy soup, corn on the cob, and more! Walking into this show, from asking for seconds to feuding with the best of them, you become family. With the singing, dancing, and comedy, get ready to laugh until you cry!
TIP! - Arrive early so you feel comfortable eating dinner.
3. Pirates Voyage Dinner Show
Pirates Voyage takes you into exciting battles on land, sea, and ship with their infamous pirates, Blackbeard and Calico Jack. Your crew mates will bring a hearty four-course meal of Sugar-cured ham, fried chicken, soup, and potatoes. As you eat, you witness the battle of Crimson and Sapphire and maybe even join in! This show would be perfect for your pirate-loving family members.
TIP! - You can take the kids to Pirates Treasure before the show for makeovers into pirates or mermaids!
4. Mel's Diner
If you want to introduce your kids to a classic chocolate malt, this is your place! When you enter the parking lot, Mel's takes you back to the 1950s. Their classic Stainless-Steel building, neon lights, glittery vinyl seating, and fantastic menu make it easy to forget we live in the 20th century.
TIP! - Mel's is a common spot for locals and travelers alike, so be sure to get there early to get your seats.
5. Comedy Barn Theater
After a delicious lunch or dinner at Mel's, you can head to The Comedy Barn Theater across the street. This family-friendly comedy show will have your family cackling. There is something for everyone, from the comedians and jugglers to the barnyard animals!
TIP! - Like everywhere else you will want to arrive early! Not only to find your seat and avoid feeling rushed, but they have some desserts that you can enjoy during the show!
6. Big Daddy's Pizzeria
Big Daddy's Pizzeria offers a large selection of pizzas. If your family isn't keen on pizza, they offer sandwiches and salads too. For dessert, they offer thoughtfully made cannoli and New York cheesecake. Not only do they have a good dinner and dessert, but they also have an in-house arcade.
TIP! - Big Daddy's is most busy from seven until close, if you want to avoid waiting to be seated, look at their lunch menu or early dinner!
7. Crave Golf Club
This Golf Club offers two candy-themed mini-golf courses that consist of 19 holes each, one indoor and one outdoor, and both are handicap accessible. Each hole offers a different way to play with their "Crave Style" spinner. They also have two thirty-minute escape rooms and an onsite candy and ice cream shop, so there is something for everyone.
TIP! - Each hole offers a different way to play with their "Crave Style" spinner. This fun addition creates new ways to putt at every turn!
No matter how your family decides to play in Pigeon Forge, we are glad you are here!