Dollywood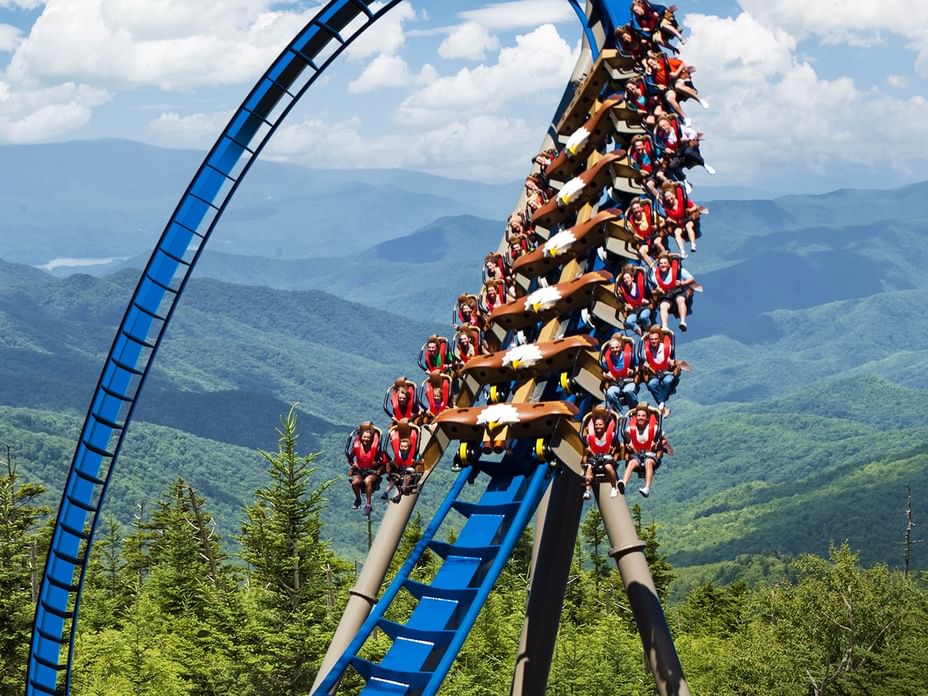 Awarded one of the world's best theme parks with five "best of the best" Applause Awards, and 2 Best Coasters awards, Dollywood is an amazing experience. There is something for everyone, with thrilling rides, entertaining shows, and master artisans.

A trip to Dollywood is an absolute must in Pigeon Forge, Tennessee, this is why we have added to our list of Top Attractions In Pigeon Forge. Recognized and awarded as one of the world's best theme parks, winning five "best of the best" Applause Awards, and two Best Coasters awards at the 2012 Golden Ticket Awards, Dollywood is an amazing Smoky Mountain experience. There is something for the whole family, with thrilling rides, entertaining shows, and master craftsmen!

Dollywood Theme Park
Created by the namesake and owner, Dolly Parton, this world famous 150-acre theme park is an action-packed treat you won't soon forget. Experience groundbreaking rides, thrilling attractions, award-winning shows and five seasonal festivals throughout the year. Dollywood offers something for unique everyone, so stop by and experience this incredible Theme Park today! Buy Dollywood tickets from our friendly Concierge at our Front Desk.

Like Roller Coasters?
THE FIRECHASER EXPRESS is the nation's first dual-launch coaster that blasts forward and backwards in the same ride!

THE BARNSTORMER
The Barnstormer features two swinging pendulum arms. Seated back to back, riders travel higher, reaching a maximum speed of 45 miles per hour and 230 degrees of rotation. At its peak, the Barnstormer reaches over 80 feet in the air!

LIGHTNING ROD
Lightning Rod is a wooden roller coaster marketed as the world's first launched wooden roller coaster. Themed after a tricked out 1950s-era hot rod, Lightning Rod ® launches riders from zero to 45 mph more than 20 stories up its lift hill to one of the ride's first airtime moments. At the crest of the hill, riders face twin summit airtime hills before tackling the daring first drop. Lightning Rod races down the 165-foot drop and propels guests along its 3,800-ft. track to a top speed of 73 mph, the fastest speed for a wood coaster in the world.

TENNESSEE TORNADO
A triple spiral-looping coaster that makes you feel like you've landed inside a funnel cloud as you zoom down a 128-foot drop through an actual mountain at speeds of 70 mph!

BLAZING FURY
The coaster is themed around the story of an old mountain town set on fire by a group of Russian bandits. Riders pass scenes of the residents trying to extinguish the flames; one is a hotel with a lady on the top deck about to jump off, before crossing a collapsing bridge, nearly getting run-over by a steam train, and wrecking into a dynamite storage shack. In the finale, the trains are sent hurtling over an eighteen-foot-high drop into a pool of water. This is used to brake the train.

MYSTERY MINE®
A steel coaster with 1,811-foot track including a hair-raising 95-degree, 85-foot vertical drop that plunges into darkness!

THUNDERHEAD
This massive wooden coaster sits between two mountains to create a daring ride featuring a 100-foot drop and a top speed of 55 mph.

WILD EAGLE®
America's first wing coaster is perched 21 stories above Dollywood. Wild Eagle® seats riders on either side of the track so there is nothing but air above and below the rider!
Award-winning shows
Dollywood shows include Dreamland Drive-In, a walk down memory lane through incredible storytelling. Learn the history and motivation behind what inspired Dolly and her lifelong dreams of love, faith and family told as only music and song may tell, or enjoy the soulful sounds of the Kingdom Heirs quartet. Shows are on every stage all year long at Dollywood.
Festivals
Get ready for a season filled with epic Dollywood festivals, entertainment, over-the-top fun, and all your favorite rides.
2700 Dollywood Parks Blvd 37863 Pigeon Forge