Top 3 Fourth of July Festivities in Sevier County, TN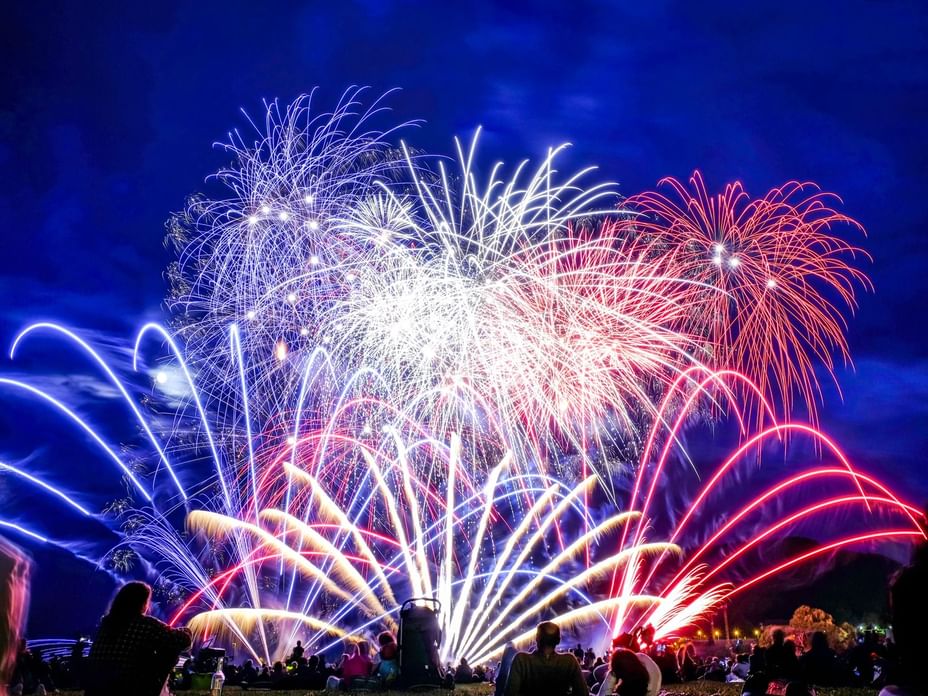 Sevier County hosts many events every year, and twenty-twenty-three is no different! From fireworks to top-of-the-line performers, there is something that everyone will love. We know that the Fourth of July holds special meaning and wanted to make it easy to find celebrations to attend. We have a calendar list of the top three festivities in the area celebrating the Fourth of July.
1. Gatlinburg's 48th Annual Fourth of July Midnight Parade
Tuesday Morning, July 4, 2023
Gatlinburg has kicked off the Fourth of July with their 12:01 am parade for 48 years, starting at light number 3 and ending at traffic light number 10. This parade hosts many local attractions, restaurants, and other groups that travel the length of Downtown Gatlinburg. This year is extra special as they welcome Grand Marshals, The Harlem Globetrotters! For more information, visit: www.gatlinburg.com
Tip! Get your spots early, around 8 pm July 3, as hundreds of people attend yearly! Also, bring a blanket or chairs to make your experience more enjoyable!
2. Gatlinburg's River Raft Regatta
Tuesday Afternoon, July 4, 2023
This one is fun for all ages! Registration begins at 11 am July 4 on River Rd. at the former Christ in the Smokies Museum. This competitive race will start at 1 pm, sending homemade floatable boats and rubber duckies downstream to the finish line at Ripley's Aquarium of the Smokies. The race will end after the last floatable and ducky crosses the finish line. This year's top three placers will receive trophies for their placement in the Treasure, Duck, and Most Creative Floatable categories. For more information, visit: www.gatlinburg.com
Tip! If you didn't make a floatable, they will have rubber duckies for purchase, or you can bring your own!
3. Patriot Festival 2023
Tuesday Evening, July 4, 2023
Pigeon Forge annually hosts a complimentary birthday celebration for America at the Patriot Park. This location has served some of the top performers over the years, and this year is no different as we welcome "Suds in the Bucket" artist headlining entertainer Sara Evans. There will also be an On The Border – The Ultimate Eagles Tribute guest appearance and a grand finale firework celebration at the end. Times will be announced closer to the date, and parking is conveniently located around the park. For more information and following up on times, please visit: www.pigeonforgepatriotfestival.com.
Tip! Be sure to bring blankets and chairs to enjoy your experience entirely.
We hope you get the most out of your time with us and enjoy joining in on all the festivities around the area. We wish you a happy and safe Fourth of July!