Fall into Fun with Five Fall Favorites!
Leaves are changing, cooler weather and fall activities are just around the corner! Sevier County has so much to offer when it comes to Fall.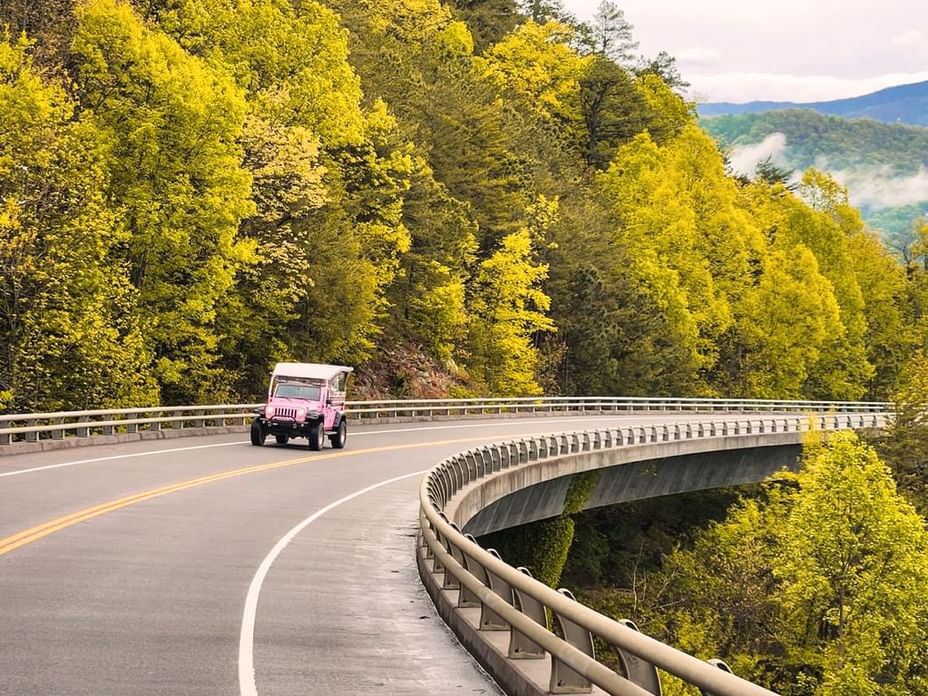 Leaves are changing, cooler weather and fall activities are just around the corner!
Sevier County has so much to offer when it comes to Fall. From admiring the season's changing colors and getting lost in a corn maze to enjoying the Great Pumpkin LumiNights at Dollywood, there is something Fall for everyone to enjoy!
1. Touring with Pink Jeep® Tours
Since being created in 1960 in Sedona, Arizona, Pink Jeep® Tours have been making "memories worth repeating." Offering different tours curated to your family's needs and want to ensure everyone has a great time. Tour guides take your family through the Great Smoky Mountains, sharing historical information and personal stories and highlight flora and fauna, all while allowing the whole family to bask in the gorgeous fall colors and sites! Find out more at www.pinkjeeptours.com.
Tip! Go on an early morning or late evening tour for better chances of seeing wildlife (aka black bears), wear comfortable shoes to walk in, and don't forget to bring cash to tip your tour guide!
2. Harvest Festival at Dollywood
While Dollywood is known for Dolly Parton, fast rollercoasters, and delicious Cinnamon Bread, they offer so much more with every season. The Fall season kicks off at Dollywood on September 20th and runs through October 30th, allowing you time to appreciate the scents and views of Fall throughout the whole park as you enjoy apple and pumpkin treats, thrilling rides like Big Bear Mountain, their Great Pumpkin LumiNights including over 12,000 pumpkins, and the return of Hoot Owl Hollow. Dollywood offers something for every age! Purchase your tickets at our front desk or at www.dollywood.com
Tip! Wear comfortable shoes! The last thing you want is to walk around all day and regret the choice of shoes!
3. Kyker Farms Korn Maze
If you enjoy getting lost in a cornfield, this adventure is for you! Kyker Farms features unique corn attractions like corn mazes, hayrides, a pumpkin patch, and more. Kyker Farms opens on September 30th and closes on October 31st. Their directions, schedule, and admission pricing are listed on their website at www.kykerfarmscornmaze.com.
Tip! Wear comfortable shoes and make a whole evening of unique events with a picnic!
4. Gatlinburg Haunts
This one might be for you if you're looking for a scare. Gatlinburg Haunts bridge the gap between history and hauntings, spanning over roughly a mile walk of the city. They take you by some of the area's most haunted places while telling the bone-chilling tales accompanying them. If you dare to go on this adventure, visit www.gatlinburghaunts.com to book your tour today.
Tip! Since this is a walking tour, you will want comfortable shoes. Nights also tend to be chilly, so bring a jacket with you. As noted for Pink Jeep® Tours, bring cash to tip your tour guide!
5. Roaring Fork Motor Nature Trail
Roaring Fork boasts significant historical markers within the area. This motor nature trail is a hotspot for history, overlooks, and changing leaves. Drive the one-way loop back into the thick canopy of the Temperate Rainforest for sights, smells, and sounds of The Great Smoky Mountains National Park. This area is also great for viewing wildlife, so give yourself enough time to enjoy everything the National Park offers. You can find out information at https://www.nps.gov/grsm/planyourvisit/roaringfork.htm.
Tip! Roaring Fork is a tour that Pink Jeep® Tours offers. So if you would rather not drive narrow mountain roads, allow one of their skilled tour guides to take you. There are stops throughout this trail that are perfect for waterscape photography, so allow yourself enough time to get great pictures!
No matter what you pick for your fall getaway, you will have a great time! Make your getaway even sweeter by booking our Fall into Savings package with Music Road Resort saving 20% off your three or more-night stay. Call 855-875-9100 or book online at https://www.musicroadresort.com/specials/fall-into-savings-package!